Kennedy-Lugar YES Program 10th Anniversary Kick-Off!
Dec 01, 2012 I
News
I
iEARN-Bangladesh
,
iEARN-Cameroon
,
iEARN-Israel
,
iEARN-Liberia
,
iEARN-Mali
,
iEARN-Pakistan
,
iEARN-Senegal
,
iEARN-Sierra Leone
,
iEARN-Suriname
,
iEARN-USA
I Share: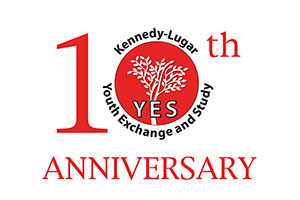 On December 12, 2012, the Kennedy-Lugar Youth Exchange and Study (YES) Program will host a world-wide virtual Kickoff Party commemorating its 10th year. The event will honor the 6,000 plus alumni community from 45 countries including the United States, host families, host schools, host communities, current YES students, U.S. and overseas partner organizations who administer and implement YES, the U.S. Department of State, and U.S. Congress, especially the late Senator Kennedy and Senator Richard Lugar.
The Kickoff Party will be a day-long event starting at 12:00 AM (EST) on December 12 on Twitter and Facebook. Anyone can join at any time during the event.
Tweet us at @yesprogramnews using #KLYES10. Like us on Facebook at https://www.facebook.com/YouthExchangeAndStudy
The Kennedy-Lugar Youth Exchange and Study (YES) Program is a program sponsored by the Department of State, Bureau of Educational and Cultural Affairs, that brings high school students from countries with significant Muslim populations to spend an academic year in the US. iEARN has been a partner since the program's first year, and is currently responsible for technology support for the program, and the recruitment of students from Arab-Israel, Bangladesh, Cameroon, Liberia, Mali, Pakistan, Senegal, Sierra Leone, and Suriname.