Learn about iEARN Projects on Global Collaboration Day, September 15, 2016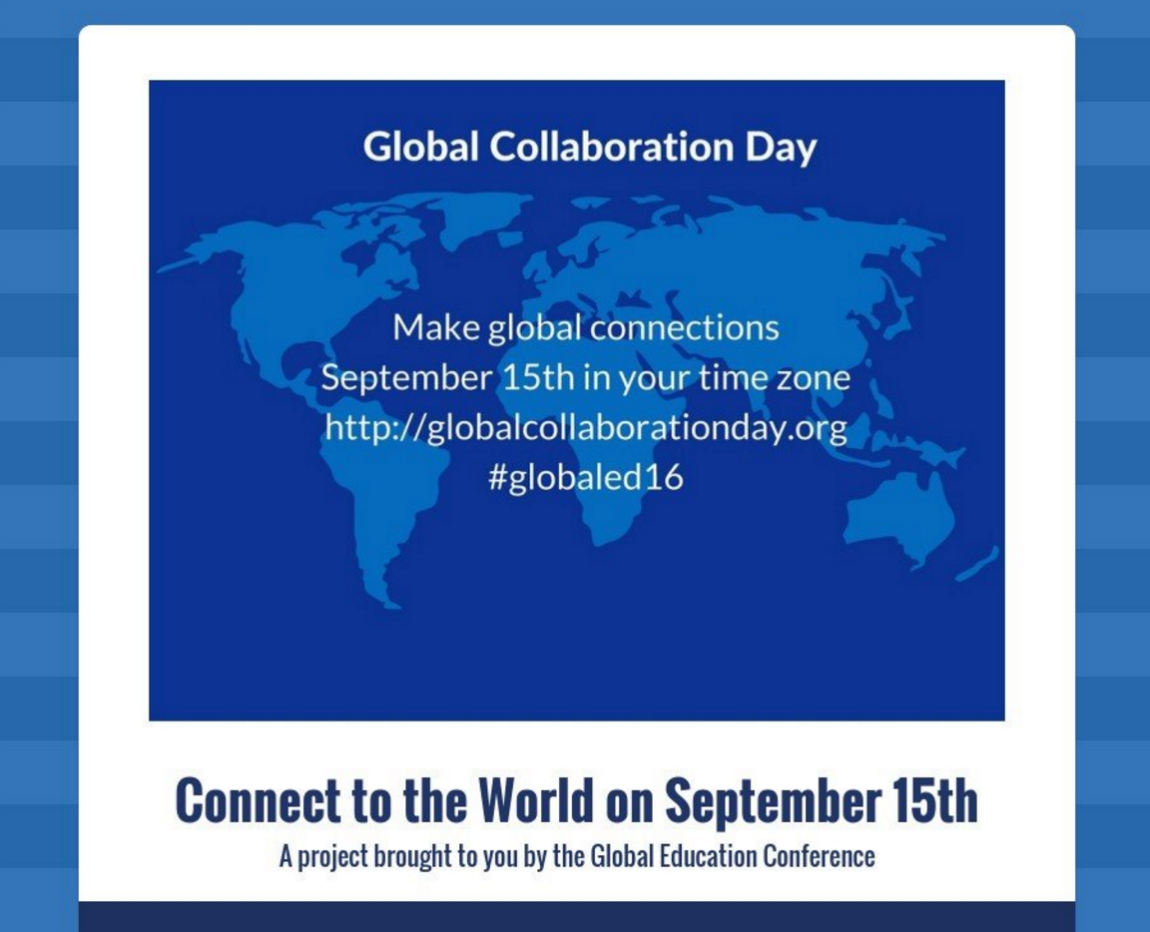 Global Collaboration Day is a 24-hour online event taking place on September 15, 2016 to share project opportunities and raise greater awareness of the need for connecting classrooms and education organizations around the world. Join iEARN project facilitators in their videoconference sessions to learn about and join their global projects (times listed in GMT/UTC):
6:00 AM UTC - iMagzz Making Myself Heard with Geeta Rajan
The event will be the release of our collaborative magazine iMagzz - Making Myself Heard.This is the sixth issue of our magazine and we would like to use this platform to thank our partners and also invite new partners to join our project.
Click here to view the recording.
13:00 UTC - Learn with the World through iEARN Projects with Jennifer Russell
During the webinar, we will showcase examples of global project-based learning that engage students in collaborative work exploring real-world problems while experiencing cross-cultural connections and friendships through online, virtual exchange. We will review a variety of global project examples designed and facilitated by teachers around the world, including geography, art, science, math, and civic engagement projects.

Click here to view the recording.
15:00 UTC - Where do the Children Play with Ruty Hotzen
Learn about a new global project called "Where do the Children Play". Where do the children play and teenagers hang out in your neighborhood or community? Do they have pleasant and peaceful surroundings? Do they have a place to grow, explore, feel confident, and develop their skills in safety?
Click here to view the recording.
17:00 UTC - Daffodils and Tulips by Ruty Hotzen
Join a the Daffodils and Tulips project where students in different parts of the world plant bulbs together and collect data on various parameters (latitude, longitude, sunlight, temperature etc.) and track when they blossom. Classrooms around the world choose Daffodil and/or Tulip bulbs to plant during the same week in November.
18:00 UTC - Talking Kites in the Footsteps of J. Korczak by Ruty Hotzen
In the Talking Kites project, students make kites to fly as a massive tribute dedicated to advancing the cultural and social dialog, a symbol of bridging the gap and understanding the "other." This will hopefully become a continuous tradition of flying kites with personal and group images of our dreams for a better world, a world of co-existence, tolerance, acceptance of the "other" and peace. Kites will be flown on the March Equinox. In 2017, kites will be flown on and around March 21, 2017. The project is dedicated to Janusz Korczak, who advocated for the rights of children.
12:00 am UTC (Sept 16) - International Book Club by Fay Stump
Join us in a video conference to learn how students and teachers in all parts of the world can share information and media projects about their reading. The International Book Club aims to provide a forum for exchanging reading recommendations, engaging in dialogue about our reading, and for sharing creative work based on reading books that relate to the UN Sustainable Development Goals. The Club is suitable for all age groups and for English Language Learners. For this video conference, you will be invited to share briefly with participants some information about a book that you have enjoyed or that you think is an important work others should read. Join us for a one hour video conference book club meeting. Then learn how through iEARN, teachers and students can join our ongoing International Book Club.

Join the video conference session at 8:00 pm EST on September 15, 2016 by the following link: iearn.adobeconnect.com/internationalbookclub/